Tonopah, Arizona land for sale is a great west valley option for those who desire Maricopa County land at an inexpensive price, relative to other Phoenix metro land for sale, in an area close enough to town to commute to work. The Tonopah area starts at the Hassayumpa riverbed (+/- 323rd Avenue) and extends to approximately 450th Avenue, along both sides of Interstate 10. Tonopah, Arizona land prices peaked in the 2006 real estate bubble around $50,000 per acre for the best small parcels. That was significantly lower than other rural, unincorporated submarkets of Phoenix. For example, peak 2006 prices of North Surprise, AZ land for sale was nearly three times that price, at around $150,000 per acre. So for a little extra distance and time, many people opted to buy Tonopah, AZ land for sale for 1/3 of the price! The actual town of Tonopah, AZ is located at Interstate 10 and 411th Avenue, but there is much more Tonopah, AZ land for sale closer to Phoenix than where the town is located.
Another reason many people desire land for sale in Tonopah, Arizona is that it is unincorporated. Maricopa County permitting process and cost is much more palatable than that of some municipalities around Phoenix. That fact alone can save you many 1,000's of dollars and time with your building project. Furthermore, the ability to put a doublewide manufactured home on unincorporated Maricopa County, Arizona land zoned R43 (unless deed restrictions don't allow) makes it desirable for many people with that goal. Most cities around Phoenix no longer allow such homes.
Land for sale in Tonopah, AZ, for the most part, is easily accessible and ready to build with the availability of electric and good roads throughout the area. Water is relatively inexpensive as well. There are several areas which are serviced by private water companies, but most Tonopah residents are supplied water from private or shared wells. "The name Tonopah derives from the word Tú Nohwá, meaning "Hot Water Under a Bush", referring to its location on the Tonopah Desert, underneath which there is an extensive subterranean aquifer so that wells dug in the area never lack water." (Source: Wikipedia) Typically, although it can vary greatly, wells are dug just a couple hundred feet deep which can significantly lower the cost of drilling a water well on Tonopah, AZ land. Relative low cost and ease of installing water on Tonopah, AZ Land for sale is a major reason it is desirable to many.
Overall, land for sale in Tonopah, Arizona is a great option whether you're looking to invest or live in the area.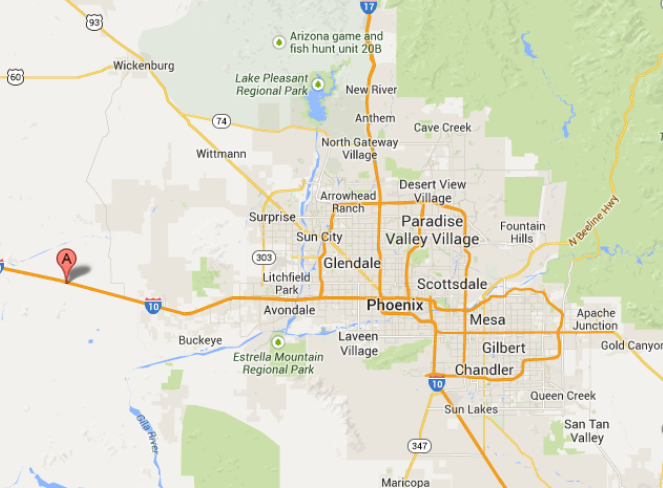 Tonopah, AZ Mapped Location
If you're looking for land in Tonopah, AZ, please visit Our Tonopah Land For Sale, or you can search All Tonopah, Arizona Land For Sale. Or, feel free to contact a Tonopah, AZ land specialist at PVP, to further discuss your needs.