If you're considering selling your land, please Contact Us or use the What's My Land Worth form. With just a little information from you, we can give you a quick valuation of your property and come up with a game plan. Land is all we do, so we know what's happening in the local marketplace and how to get the most money for your land in the quickest time.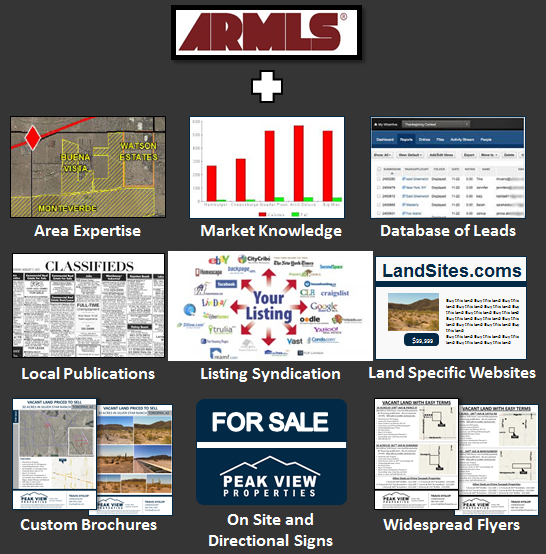 Due to working in the Arizona land market every day, we know it better than other AZ Land Brokers. That information allows us to accurately price your property to achieve your goals and better negotiate on your behalf. That gives you the upper hand.
Most AZ real estate Agents really don't want to take your land listing. They definitely don't intend to market or sell it. Usually, they just list your AZ Land For Sale in the Multiple Listing Service, in hopes that another agent will sell it. On the contrary, we want to list and sell your AZ land. And while we list in the Multiple Listing Service too, we also actively promote your AZ land listing to seek out buyers in the marketplace. To find those AZ Land Buyers, we advertise in local publications, syndicate your land listing to over 50 worldwide real estate websites, as well as post your listing on several other land specific websites. We have established relationships with most active area brokers and buyers and know how to gain their interest in your property. For your listing, we will create a custom property brochure and distribute it to our local contacts. We'll also put up an on-site sign and area directional signs, with flyers, that lead potential buyers to your property.
Taking and selling listings is vital to our business, so giving our clients the best representation possible is something we take very seriously. Our reputation is most important to us. That's why we continue to get referral business all the time.
The bottom line is, we really want your business and know how to Sell Your AZ Land!
Want to know what your land is worth?